Follow Entrepreneuship4All, the new European entrepreneurial e-learning platform that helps SMEs to face current challenges in the wake of the pandemic.
The entrepreneurship4all training programme, is structured around the 4 pillars:
- Entrepreneurial skills
- Digital skills
- Financial Literacy
- Sustainability
The platform includes courses at 3 learning levels: beginner, intermediate and advanced.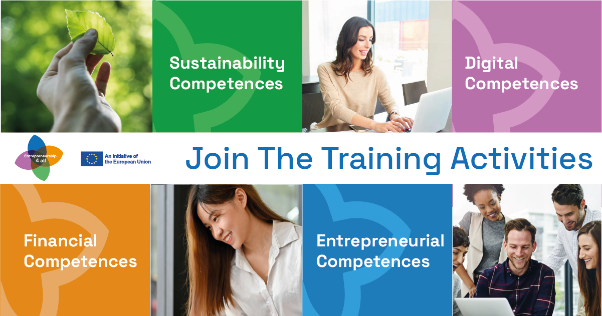 Who is this course for?
Startup entrepreneurs who have just started a business or are about to do so, who are pursuing their entrepreneurial project, experimenting and daring to turn it into a tangible business and need to develop and improve their core competences.
What will you learn?
to grow your entrepreneurial mindset
to reflect and take responsibility for turning your ideas into action in "real life"
to gain independence by experimenting and improving your skills to create value
to be able to recognise your own strengths and weaknesses, to organise, plan and assess your entrepreneurial activity
The course is already available. It is free, freely accessible, and delivered in the form of short, intensive lessons. A certificate of attendance is given at the end.
You can also register at the Entrepreneurship4All Communities of Practice. They are collaborative, learning spaces for experienced and aspiring entrepreneurs to share ideas, projects and challenges they face, thus creating a space for the exchange of ideas and for collaborative learning.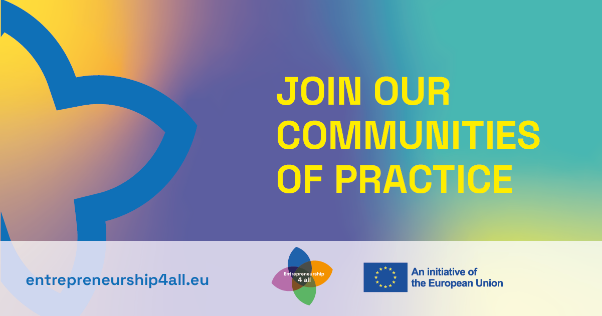 To attend the courses and participate in the Communities of Practice, register now at the link.
The Entrepreneurship4All project is funded by the European Innovation Council and SMEs Executive Agency (EISMEA).